Dan "Spider" Shepherd is the creation of best-selling thriller writer and eBook entrepreneur Stephen Leather.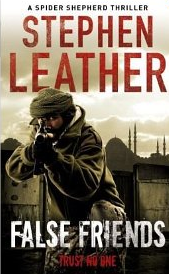 Shepherd first appeared in Hard Landing, which has gone on to be a consistent eBook bestseller and spent several months at Number 1 in the UK Kindle bestseller list.
Subsequent books were Soft Target, Cold Kill, Hot Blood, Dead Men, Live Fire, Fair Game, Rough Justice and False Friends. Stephen Leather has also produced a short story featuring Shepherd during his days as an SAS trooper in Afghanistan and more are planned.
Shepherd began life as an undercover cop but then moved into the Serious Organised Crime Agency and finally to MI5. While concentrating on his undercover operations, Stephen Leather's books also feature Shepherd's personal life, especially his relationship with his young son, Liam. Shepherd's wife, Sue, dies in Hard Landing, leaving him as a single parent.
Want the full series of Dan Shepherd? Find it on Amazon.com.